Featured Faculty – Carolyn Shoemaker
B.F.A. Graphic Design
Carolyn studied at the College for Creative Studies in Detroit, where she earned her B.F.A. She worked as a professional graphic designer for over 25 years and was always painting in her free time. In the last several years she has been focusing on painting and began a new passion for teaching.
Carolyn loves to share her knowledge and enjoys seeing the outcome of her students accomplishments.
She has exhibited her work in a number of galleries and shows in and around this beautiful state of Michigan where she and her family love to travel. Gardening is another passion, which is why painting florals is one of her favorite things to paint along with landscapes and abstracts.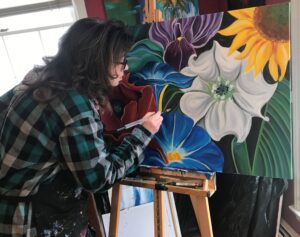 Pictured: Carolyn Shoemaker, PCCA teaching faculty member.