Please join us as we welcome PCCA Member and abstract artist, Phyllis Jarvis, to the Art Market!
After teaching for over twenty five years, Jarvis returned to her first love- painting. Based in West Bloomfield, Jarvis is a (mostly) self-taught expressionist. She credits her success to dedicated, incredible art teachers who recognized her creative talents and constantly encouraged her to explore and expand her love of drawing and painting.
Inspired by the works of Joan Mitchell, Helen Frankenthaler and Willem de Koonig, Jarvis creates vibrant acrylic paintings on canvas full of vivid colors and intuitively applies layers with a sense of flow and transparency, a balance of energy and calm, and a contrast between bold and spacious. The end result often described as uplifting, peaceful and inspirational. Her use of color and texture are a true treat for the eyes.
Find four of Phyllis Jarvis' abstract paintings on display and for sale in the Art Market at Paint Creek Center for the Arts (407 Pine St., Rochester, MI 48307) now through June 1, 2021. Prices begin at $150.00. Additional samples of Jarvis' work can be found on her website here.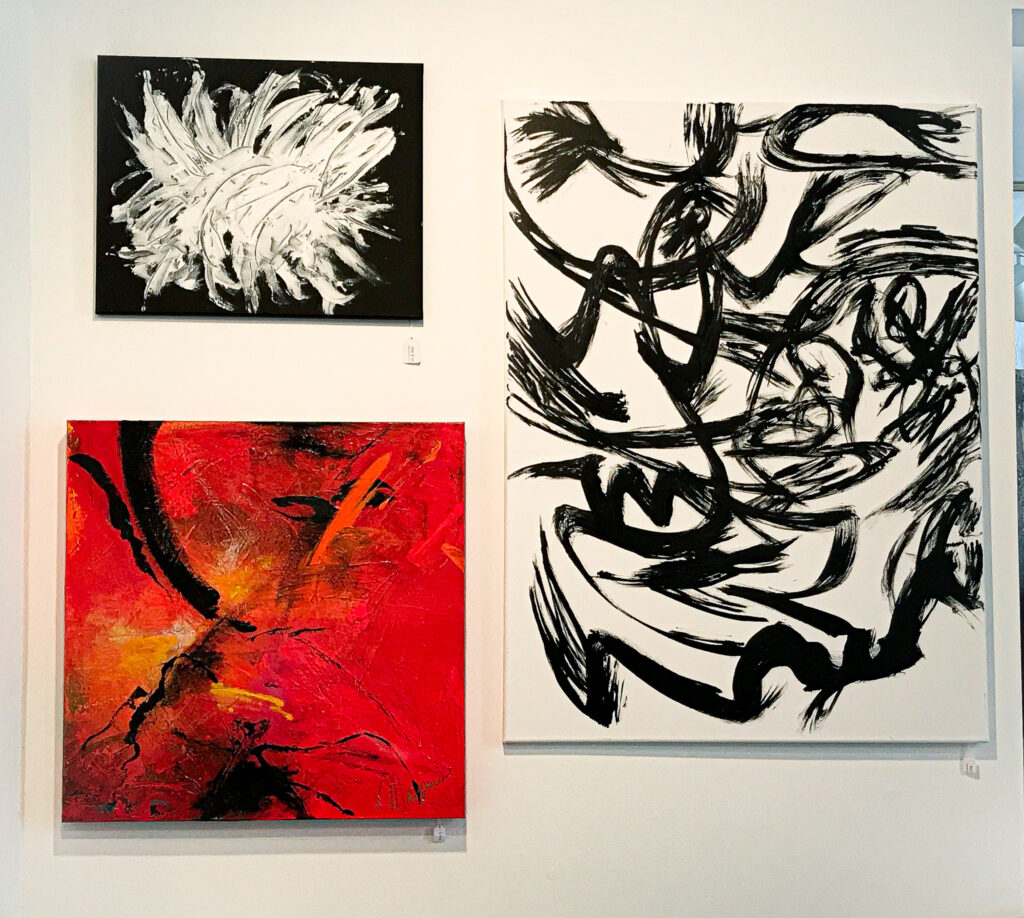 Above: Two paintings by Phyllis Jarvis arranged beside an abstract by Mary Maguire (red).
Top Left: Ebony & Ivory by Phyllis Jarvis. 20″ x 16″, acrylic on canvas. $150.00
Bottom Left:
Right: Sneaky Feelings by Phyllis Jarvis. 30″x40″, acrylic on canvas. $575.00
Above: Two paintings by Phyllis Jarvis.
Left: Dangling Conversations triptych by Phyllis Jarvis. 36″ x 36″, acrylic on canvas. $450.00
Right: Kaleidoscope by Phyllis Jarvis. 30″x40″, acrylic on canvas. $750.00