Tami Salisbury
Executive Director

Art & Apples Festival®: Sponsorships & Artists
Tami joined Paint Creek Center for the Arts in February 2014. She brings to PCCA 15 years of successful experience with fundraising, special events, community leadership, and organizational management. Previously she was Executive Director of the Eight Mile Road Association where she worked with a Board of Directors comprised of 16 elected officials and a number of business leaders in Southeast Michigan. In this role, Tami established and facilitated collaborative initiatives that advanced important regional relations with tangible results. Tami has also held the position of Sponsorship Manager at the Michigan Thanksgiving Day Parade where she was responsible for raising $3 million annually for two major civic events in Detroit, America's Thanksgiving Parade® and the International Freedom Festival, as well as sixteen auxiliary events. Under Tami's leadership, PCCA is expanding its community reach and is creating more opportunities for people in the region to participate in and appreciate the arts.
Anna Romund
Director of Development

Art & Apples Festival®: Performers
Anna Romund has more than seventeen years of nonprofit management experience, particularly in the areas of marketing and fundraising. She has a Bachelor's degree in biology from Albion College and a MBA from Michigan State University.
Holly Traykovich


Manager of Art Education
Art & Apples Festival®: Kids Art Zone
Holly joined Paint Creek Center for the Arts in October 2016. She graduated Summa Cum Laude from Wayne State University with a Bachelor of Science degree in Visual Arts Education with an endorsement in K-12 Art Education. She gained experience in her college career teaching many different forms of art in urban communities to grade levels ranging from kindergarten to post-secondary. As an artist herself, Holly has a strong passion for art advocacy and is excited to share her love for art with the community.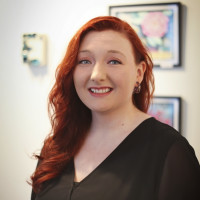 Jenny Creech
Manager of Galleries and Digital Media

Art & Apples Festival®: Artist Liaison
Jenny joined Paint Creek Center for the Arts in January of 2016. Artistically, she comes from a traditional illustration background, and holds Associate degrees in Creative Imaging and Illustration, and in Art for Advertising from Macomb Community College. In her off time she actively works as a freelance illustrator, and has displayed work at several local galleries and art events around the metro-Detroit area. With a combined background of several years of diverse management and retail visuals experiences behind her, she looks forward to the opportunity to work with the staff and students of Paint Creek Center for the Arts!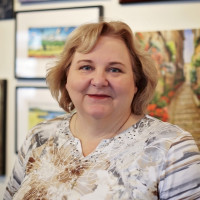 Sue Wood
Accountant

Art & Apples Festival®: Count House
Sue joined Paint Creek Center for the Arts in August 2015.  She brings many years of experience from her extensive business management and entrepreneurial background. She has been instrumental in several small business startups and operates a very successful accounting and tax service. Sue possesses an uncompromising work ethic, meticulous attention to detail and sound judgement. She applies these traits consistently at Paint Creek to ensure accurate accounting procedures are maintained in an efficient manner.
Jessica Ann Bauer
Office Manager & Program Coordinator

Art & Apples Festival®: Food Vendors & Performers
Jessica joined Paint Creek Center for the Arts in July 2017. She graduated from the University of Michigan- Flint with her Bachelors of Arts in History with a minor in Art History. She then attended the University of Michigan, Horace H. Rackham Graduate School, where she studied for her Masters of Arts in Art Administration concentrating in Museum & Gallery Administration. Her graduate thesis project was the 2016 UM-Flint Student Art exhibition which feature more than 400 pieces of art from the students during the school year.
Kelly Bradsher
Social Media and Memberships Coordinator

Art & Apples Festival®: Volunteers & Gate Groups
Kelly Joined Paint Creek Center for the Arts in August 2017. She graduated from Central Michigan University with a Bachelor of Applied Arts in Entrepreneurship and a minor in Leadership. She has communication experience from Central Michigan Athletics as a social media analyst and website editor. She is extremely excited and grateful to be in a position dedicated to the love of art with the staff and members of PCCA.