Elizabeth Chilton
Executive Director

Art & Apples Festival®: Sponsorships & Media/PR
Joining the PCCA team in May of 2018, Elizabeth brings more than 20 years of experience working in the region's cultural sector. She has 10 years of successful fundraising experience including corporate, foundation, and individual giving as Director of Development for both the Detroit Science Center and Mosaic Youth Theater of Detroit. As Manager of Curatorial Affairs for the Arab American National Museum and Director of Exhibit Content for the Detroit Science Center, she collaboratively led the development, design, curation and installation of four permanent exhibit galleries, three temporary exhibits and five traveling exhibitions. Her experience includes strategic planning and managing multi-million-dollar projects including developing and managing budgets and timelines; overseeing personnel, consultants and contractors; and cultivating relationships key stakeholders and nationally-recognized artists. Elizabeth is the Founding Director of the Exhibit Professionals Group and a member of the Board of Directors for two national professional networks (museum exhibitors and curators) for the American Alliance of Museums.
Nafeesah Symonette


Manager of Art Education
Art & Apples Festival®: Creation Station
Joining the team in June of 2019, Nafeesah brings a wealth of knowledge and experience in the field of Art Education and Research. She has a Bachelor of Fine Arts with a concentration in drawing and painting, a K-12 teaching certification and a Master of Arts in Art Administration. Her research focus is in arts education, culturally responsive pedagogy, and the preparation of professional development for art educators and teaching artists from Eastern Michigan University. With over a decade of teaching experience in the arts, Nafeesah is well versed in best practices for the art educators classroom. As a past recipient of the District of Columbia's Mayor's Art Award for Excellence in Visual Art Secondary Teaching, it goes without saying that Nafeesah is incredibly passionate about art education, arts advocacy and program development. Her passion for the arts is rooted in her desire to share her gifts as an educator and painter. She is excited to join the PCCA team as Manager of Art Education and eager to assist in ushering the Center into a new era.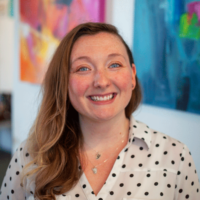 Jenny Creech
Manager of Galleries and Digital Media

Art & Apples Festival®: Artists, Graphics & Layout
Jenny joined PCCA in January of 2017. She comes from an illustration background, and has over ten years of diverse sales and management experiences behind her. She is attending Academy of Art University to complete her BFA in Graphic Design, and holds Associate degrees in Creative Imaging and Illustration, and Art for Advertising from Macomb Community College. In her off time she actively works as a freelance illustrator, and regularly displays work at galleries and art events around the metro Detroit area. Jenny looks forward to applying her unique art experiences and background to assist the staff, students, and artists of Paint Creek Center for the Arts.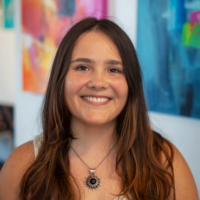 Nicole Bush
Education Coordinator

Art & Apples Festival®: Kids Art Zone
Nicole joined Paint Creek Center for the Arts in April of 2018 and has a Bachelor of Arts in Elementary Education from MSU. Nicole has taught art therapy, art classes, and worked with fine arts nonprofits. It is Nicole's dream to educate and allow others to be able to express themselves through art. "Excited to facilitate Summer Camps and the outreach programming!"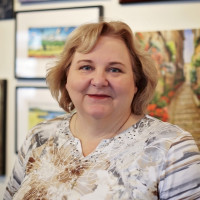 Sue Wood
Book Keeper

Art & Apples Festival®: Accounting
Sue joined Paint Creek Center for the Arts in August 2015.  She brings many years of experience from her extensive business management and entrepreneurial background. She has been instrumental in several small business startups and operates a very successful accounting and tax service. Sue possesses an uncompromising work ethic, meticulous attention to detail and sound judgement. She applies these traits consistently at PCCA to ensure accurate accounting procedures are maintained in an efficient manner.