Tami Salisbury

Executive Director
Tami joined Paint Creek Center for the Arts in February 2014. She brings to PCCA 15 years of successful experience with fundraising, special events, community leadership, and organizational management. Previously she was Executive Director of the Eight Mile Road Association where she worked with a Board of Directors comprised of 16 elected officials and a number of business leaders in Southeast Michigan. In this role, Tami established and facilitated collaborative initiatives that advanced important regional relations with tangible results. Tami has also held the position of Sponsorship Manager at the Michigan Thanksgiving Day Parade where she was responsible for raising $3 million annually for two major civic events in Detroit, America's Thanksgiving Parade® and the International Freedom Festival, as well as sixteen auxiliary events. Under Tami's leadership, PCCA is expanding its community reach and is creating more opportunities for people in the region to participate in and appreciate the arts.
Ellie Ingram

Director of Art Education & Exhibitions
Ellie joined the PCCA staff in January 2015.  She holds a Bachelor of Fine Arts from the University of North Carolina at Greensboro and a Master of Fine Arts from Herron School of Art and Design. Ellie has extensive experience in art education and art workshop development, both as teacher and administrator. Ellie has worked for several non-profit art centers creating educational programming for all ages in places such as North Carolina, Indiana, Michigan, Ghana and India. Ellie believes that art should be accessible to all people and is dedicated to fostering artistic growth in the PCCA community.
Shelby Gansler
Manager of Communications & Art Market

Shelby joined the PCCA staff in August 2015. She has completed a 2 year communications internship. Throughout her internship, she was able to gain experience in graphic design, photography, videography, and other forms of digital media. She has produced graphics and motion videos for events as large as 8,000 people. After her time there she worked at a photography studio where she was able to lead and develop their social media and gain more experience with photography. Shelby is excited to be a part of the PCCA team where she can continue to create digital art daily!
Holly Traykovich

Manager of Events and Social Media / Receptionist
Holly joined Paint Creek Center for the Arts in October 2016 as the receptionist and communications assistant. She holds a Bachelor of Science degree in Visual Arts Education with an endorsement in K-12 Art Education from Wayne State University. She gained extensive experience teaching many different forms of art in urban communities to grade levels ranging from kindergarten to post-secondary. As an artist herself, Holly has a strong passion for art advocacy and is excited to share her love for art with the community!
Emma Boonstra
Programming Coordinator for the Art School & Exhibitions

Emma Boonstra is an active visual storyteller and photojournalist. Born into a family of avid travelers, Emma has been traveling—with a camera—snapping pictures, from Alaska to Amsterdam, since her early teen years.
Determined to make her passion for the visual art into her profession, Emma attended the College for Creative Studies located in Detroit, Michigan via the Walter B. Ford II Award of Excellence Scholarship. She graduated with honors in May 2016 with a Bachelor of Fine Arts in Photography. During her college career, Emma has had the privilege of working as a photo intern with Amazon Inc. and at Shinola in Detroit, Michigan. Emma has acquired expertise in digital media, photography, communications management, social media, and visual storytelling.
Emma enjoys actively being a part of her community and visually capturing people's stories. She also, enjoys keeping viewers engaged and interested across a multitude of different platforms.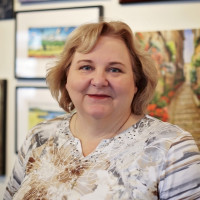 Sue joined Paint Creek Center for the Arts in August 2015.  She brings many years of experience from her extensive business management and entrepreneurial background. She has been instrumental in several small business startups and operates a very successful accounting and tax service. Sue possesses an uncompromising work ethic, meticulous attention to detail and sound judgement. She applies these traits consistently at Paint Creek to ensure accurate accounting procedures are maintained in an efficient manner.