Elizabeth Chilton
Executive Director

Art & Apples Festival®: Sponsorships & Media/PR
Joining the PCCA team in May of 2018, Elizabeth brings more than 20 years of experience working in the region's cultural sector. She has 10 years of successful fundraising experience including corporate, foundation, and individual giving as Director of Development for both the Detroit Science Center and Mosaic Youth Theater of Detroit. As Manager of Curatorial Affairs for the Arab American National Museum and Director of Exhibit Content for the Detroit Science Center, she collaboratively led the development, design, curation and installation of four permanent exhibit galleries, three temporary exhibits and five traveling exhibitions. Her experience includes strategic planning and managing multi-million-dollar projects including developing and managing budgets and timelines; overseeing personnel, consultants and contractors; and cultivating relationships key stakeholders and nationally-recognized artists. Elizabeth is the Founding Director of the Exhibit Professionals Group and a member of the Board of Directors for two national professional networks (museum exhibitors and curators) for the American Alliance of Museums.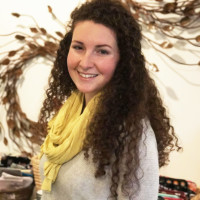 Alex Wilson


Manager of Art Education
Art & Apples Festival®: Kids Art Zone
Alex Wilson joined Paint Creek Center for the Arts in July of 2015. She has a Bachelor's of Arts in Art Education with a concentration in ceramics from Michigan State University. For the past few years at Paint Creek Center for the Arts she has been a ceramics instructor for both children and adults, and has also instructed the summer camp programs. When it comes to art, she is passionate about community involvement and making art accessible to people of all backgrounds. She is very excited to apply all that she has learned while teaching in public schools and in the ceramic studio to her new position as Manager of Art Education.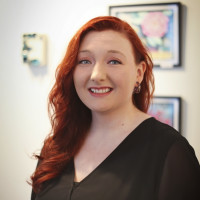 Jenny Creech
Manager of Galleries and Digital Media

Art & Apples Festival®: Artists
Jenny joined PCCA in January of 2017. She comes from an illustration background, and has over ten years of diverse sales and management experiences behind her. She is attending Academy of Art University to complete her BFA in Graphic Design, and holds Associate degrees in Creative Imaging and Illustration, and Art for Advertising from Macomb Community College. In her off time she actively works as a freelance illustrator, and regularly displays work at galleries and art events around the metro Detroit area. Jenny looks forward to applying her unique art experiences and background to assist the staff, students, and artists of Paint Creek Center for the Arts.
Kelly Bradsher
Social Media & Memberships Coordinator

Art & Apples Festival®: Volunteers & Gate Groups
Kelly Joined Paint Creek Center for the Arts in August 2017. She graduated from Central Michigan University with a Bachelor of Applied Arts in Entrepreneurship and a minor in Leadership. She has communication experience from Central Michigan Athletics as a social media analyst and website editor. She is extremely excited and grateful to be in a position dedicated to the love of art with the staff and members of PCCA.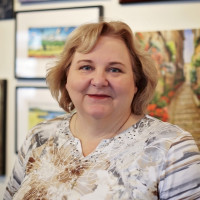 Sue Wood
Accountant

Art & Apples Festival®: Accounting
Sue joined Paint Creek Center for the Arts in August 2015.  She brings many years of experience from her extensive business management and entrepreneurial background. She has been instrumental in several small business startups and operates a very successful accounting and tax service. Sue possesses an uncompromising work ethic, meticulous attention to detail and sound judgement. She applies these traits consistently at PCCA to ensure accurate accounting procedures are maintained in an efficient manner.
Jackie Weaver
Office Manager

Art & Apples Festival®: Food Vendors & Performers
Jackie Weaver joined Paint Creek Center for the Arts in May 2018. She brings years of experience in creative settings including television/film set design and marketing and sales for a special effects/t.v. production company.  As a result of classes she took at PCCA, Jackie built a successful business hand-painting black and white photographs and was featured by the Detroit News for her work using this technique to create Christmas cards.  She is excited to be at PCCA sharing in the joy of art!
Nicole Bush
Education Coordinator

Art & Apples Festival®: Kids Art Zone
Nicole joined Paint Creek Center for the Arts in April of 2018. She has a Bachelor of Arts in Elementary Education from MSU. Nicole has taught art therapy, art classes, and worked with fine arts nonprofits. It is her dream to educate and allow others to be able to express themselves through art. She is excited to assist with the Fine Art Day Camp and the Art & Apples Festival.