Featured Faculty – Kris Schaedig
M.F.A. Fine and Studio Arts
Kris Schaedig is a visual artist working primarily in the metro-Detroit area. She holds a B.F.A. in Painting and Drawing from Wayne State University, and an MFA from the School of the Art Institute of Chicago. She has been teaching at PCCA since 2010.
Kris creates mixed media work that is contemplative in nature and is about the connections we have and make with each other over time through shared objects and spaces. In her most recent work, she uses items such as family textiles with the addition of embroidery, paint and other materials or techniques to address the passing of time, the collection of history and memory. These every day objects become relics, containers of memories, artifacts as time passes.
She is a member of a Chicago-based art collective, MotherArt: Revisited, and exhibits frequently with this group, as well as individually.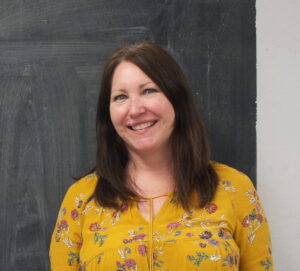 Pictured: Kris Schaedig, PCCA teaching faculty member.
Reliquary
by Kris Schaedig
Remnant 1
by Kris Schaedig